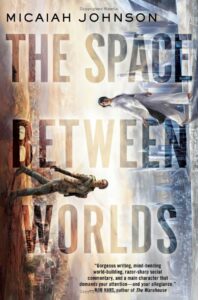 Premise
Cara works in the wealthy Wiley City but she grew up in the wasteland beyond the city walls. Her job is travelling to different worlds where other versions of her have been killed, because no one can survive in a world where their counterpart is still alive.
Review
The premise caught my attention. I'm a sucker for alternative reality stories. There is something different about this one though. Although there are likely an infinite number of alternative realities, people are only able to travel to those within a range of similarity to the base reality, which in this case is 380. So the realities they visit aren't very different to the original.
The differences are more about the people, which means the main character is able to learn more about the people on Earth-Zero (the base reality) by talking to their counterparts. Which is a much more subtle thing than I'm used to seeing in this type of story.
Earth-Zero, by the way, isn't our Earth. It is metaphorically similar in the differences between the wealthy and the poor, but is not the same.
The characters are interesting and feel fully-realised. The differences between them and their counterparts are situational. Something different happened to them in their history, but in most cases they are essentially the same person.
The story itself takes a little while to get going, but that time allows the reader to learn more about the characters and start caring about them. Which, given how complex Cara is, probably couldn't be done any quicker. At first she isn't an easy person to like, but by the end I really wanted her to succeed.
Along the way there are a lot of twists and turns. More than one chapter ends with a revelation that changes how you view the characters.
Overall I really enjoyed the book and would recommend it to anyone who wants a story with alternative realities, but isn't really about alternate realities.