Last night, while I was cooking dinner, Tamzin and Oscar put up our Halloween decorations. I know it's only the start of the month, but we do this most years. Usually while listening to the soundtrack from The Nightmare Before Christmas.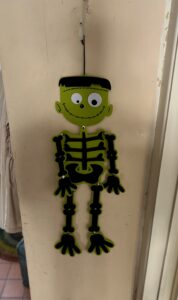 It seems that every year Christmas decorations go up sooner, and stay up longer, and as much as I enjoy Christmas, I find this annoying. Not so much with Halloween. I think, if I had it my way, we would leave the Halloween decorations up all year around.
I have always enjoyed Halloween, and am looking forward to a season of watching seasonal specials and films. One that has quickly become a family tradition is Muppets Haunted Mansion. Obviously we will also watch The Nightmare Before Christmas, and Corpse Bride. Then on Halloween itself, after Oscar is in bed, Tamzin and I will watch a proper scary movie.
Eventually, of course, the decorations will have to come down to make way for Christmas things.
If you are looking for a scary read this Halloween season, why not check out Unhallowed Ground, the newly remastered edition is currently on sale for $0.99 for a limited time only:
Amazon US | Amazon UK | Kobo | Apple | B&N | Scribd | Elsewhere